Regular price
Sale price
$409.98
Unit price
per
Sale
Sold out
Specs: 220/23X, .644/.644, 113 LSA, 32% fuel lobe
The ALL NEW Gen V 220 Camshaft.
This unit is the culmination of extensive in-house Spintron testing, coupled with thorough vetting on our Superflow Engine Dynamometer. We have spent countless hours designing  some of the most stable, powerful lobes in the industry. These camshafts have been extensively tested against our competitors' designs , and have shown better valve train stability,  yet make more horsepower and torque as well . All this translates into better longevity , less valve train wear and tear and more power.
 
For use in L83 applications,the 220 cam is BTR's largest recommended offering. With just simple bolt-ons this grind has made well over 500 hp in a stock bottom end application. It's truly a marvel in its ability to perform so well  in such a mild application. By continuing to utilize the factory installed VVT system,we were able to set the valve events where we like for stump pulling torque down low while providing EXPLOSIVE top end power.  In this sense, the end user truly has the best of both worlds. 
 
 This does not come without a small sacrifice to the 5.3L crowd, as you must fly-cut your pistons to allow for this grind to properly fit. However, a DOD delete is also necessary, which means those cylinder heads have to be removed regardless. One extra small step to provide enormous gains across the powerband.
 
When used in L86 truck applications , the versatile BTR Gen V 220 camshaft provides excellent low and mid range torque along with exceptional power up to redline. Whether your truck is used for work,mild towing or as a weekend cruiser,this cam will provide great all around power along with a noticeable idle that grabs your attention . 
 
For our LT1 customers the added induction really helps the Gen V 220 cam shine in the horsepower department. Once again this mild cam makes excellent top end horsepower, to the tune of over 600 hp, all the while providing smooth power and excellent driveability for use in your daily driver or weekend toy.  
 
 
NOTE: To take advantage of this grind, it is imperative to utilize VVT control when tuning. A proper calibration with attention to detail in this respect, will make this camshaft SHINE!
WILL NOT FIT IN A L83 ENGINE UNLESS YOU FLYCUT THE PISTON!
Kit Options:
Camshaft Only w/ 4 Degree Phaser Limiter
Camshaft, BTR .660" Dual LT Spring Kit, BTR 7.850" 11/32" .080" Pushrods and 4 Degree Phaser Limiter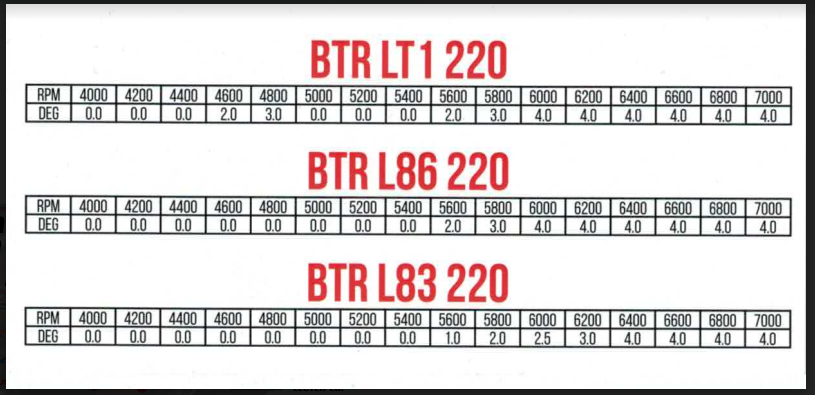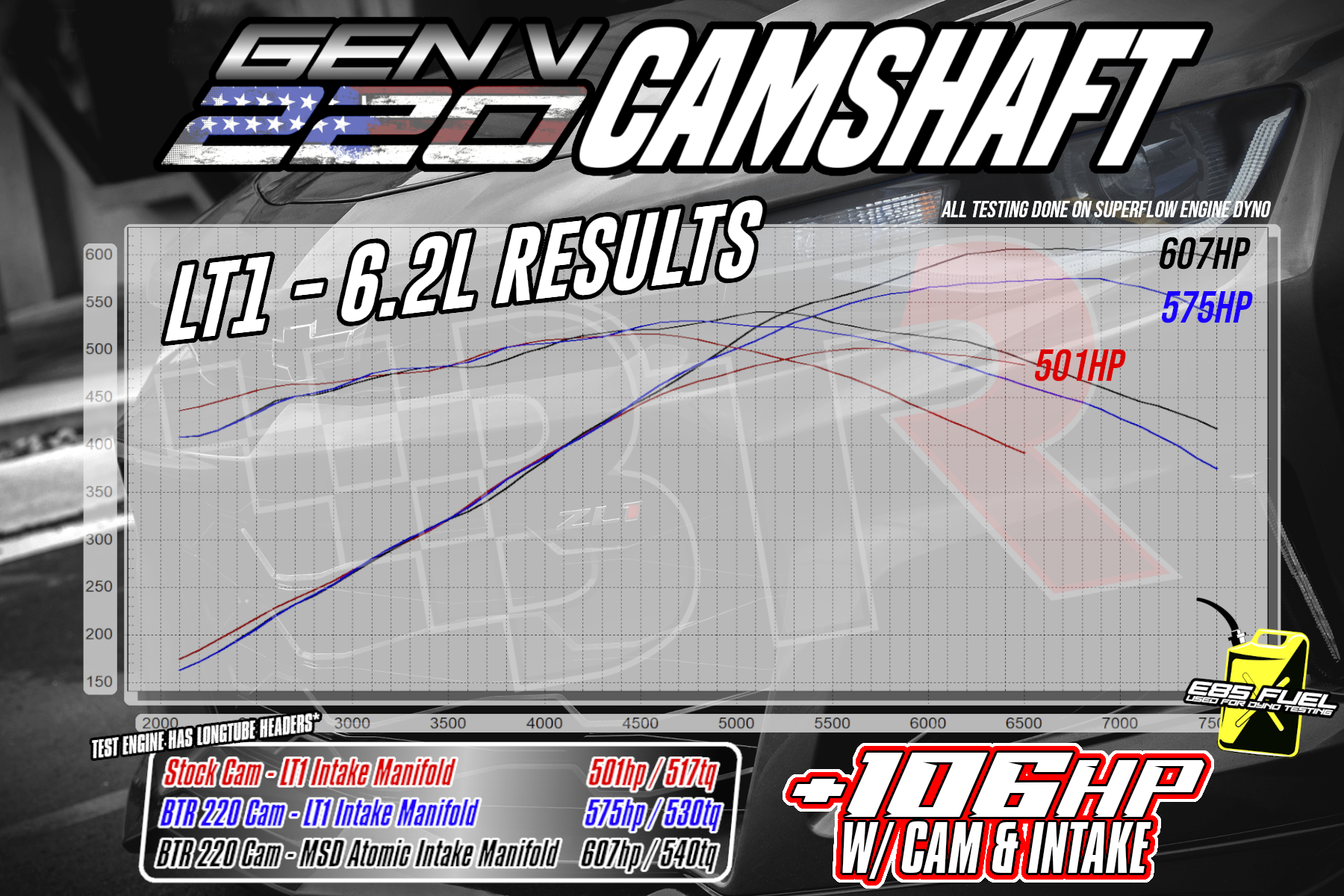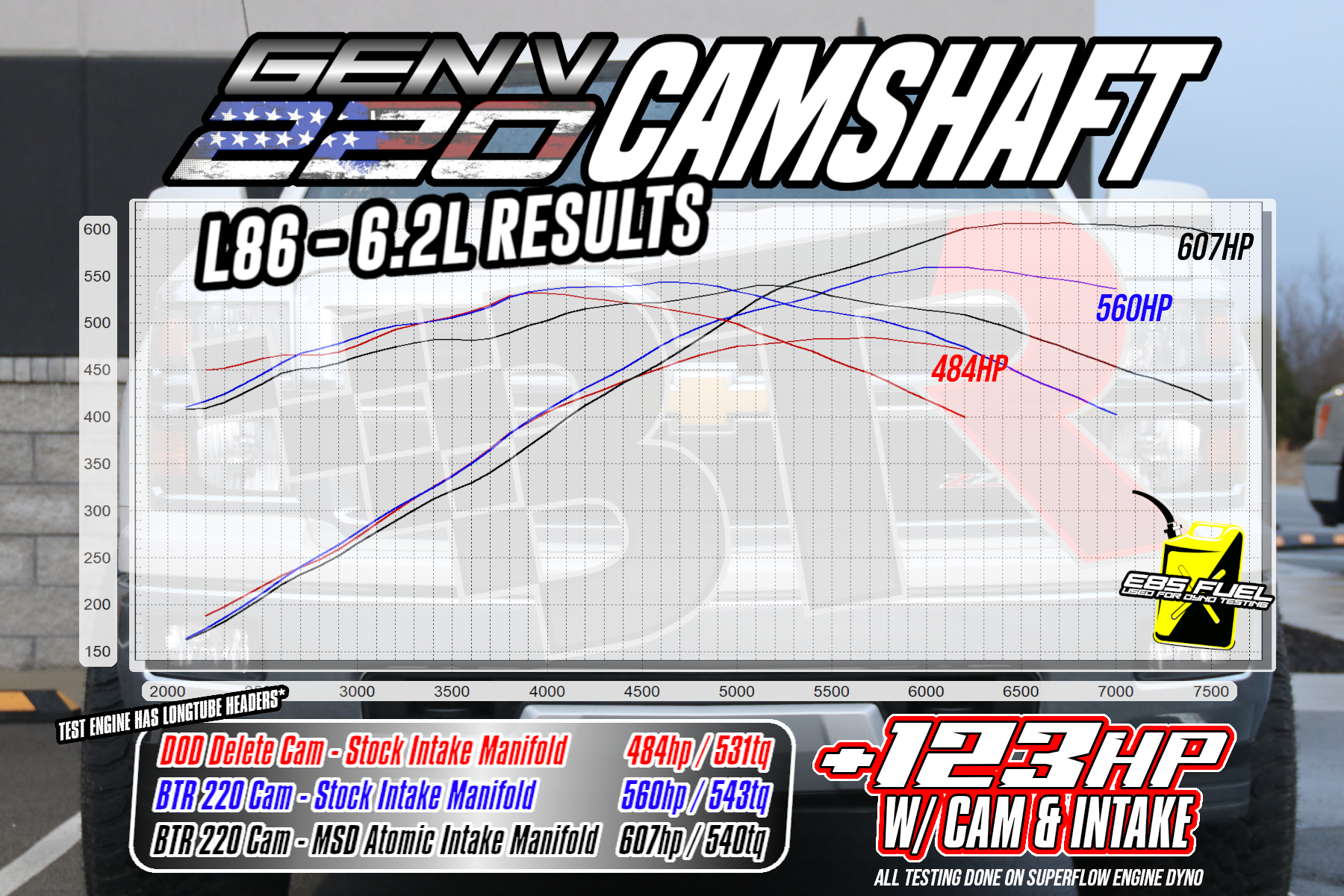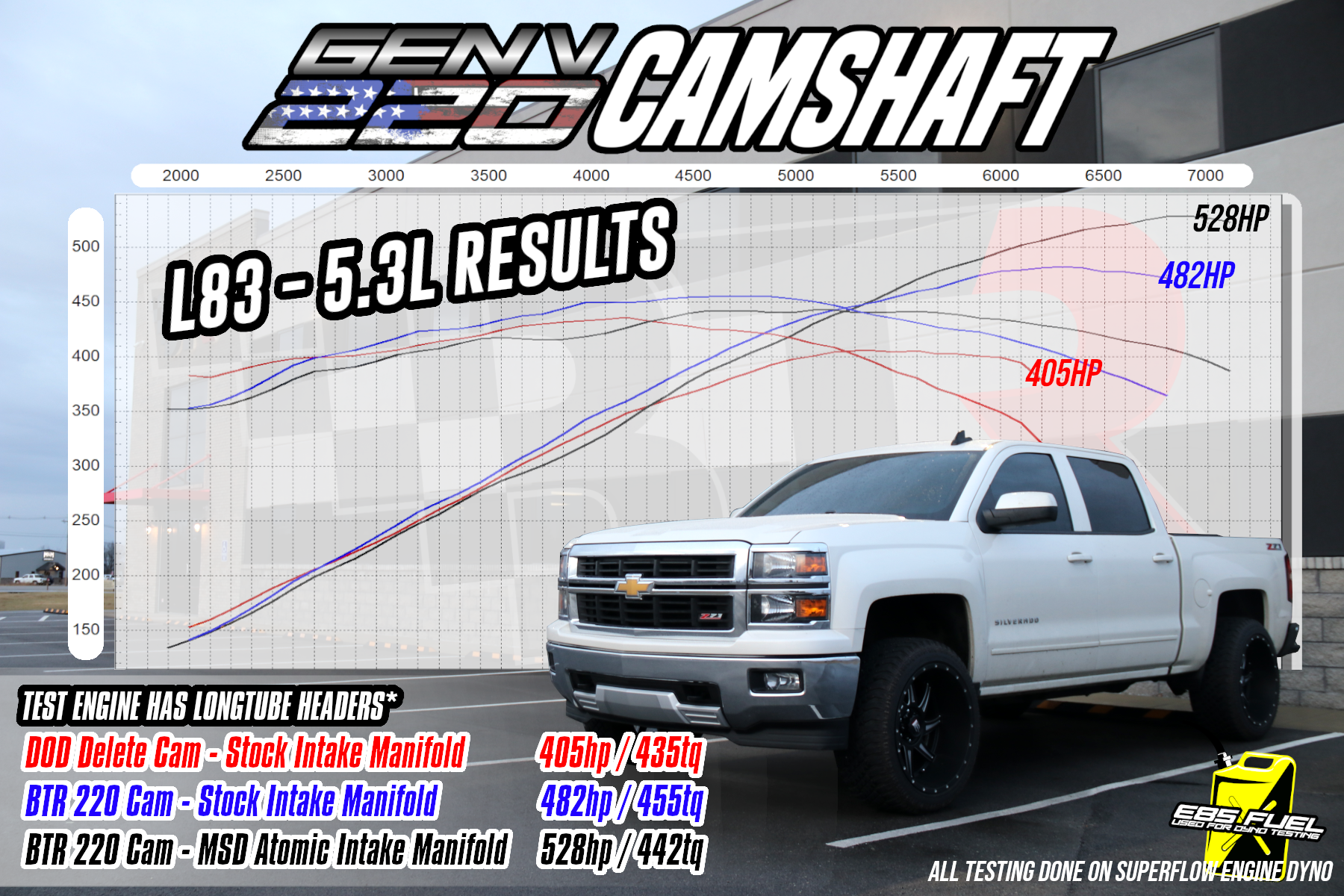 Share
View full details